Having an epic holiday adventure in Nigeria usually sounds like a facade and especially not when you narrow the destination to Northern Nigeria, every hope of the possibility falls off like a melting snow.. literally! But in this post, I'm going to debunk all that by sharing my recent holiday adventure experience to Bauchi, Northeast Nigeria and of course, share top travel tips you must know before planning a trip down here.
Lets gooooo…
It was a trip organized by my friends at Bauchi Friends Tour, during the Easter holiday. we took off from Abuja at exactly 7:30 am, just 30minutes later than the original take off time. It was still a pretty decent takeoff time, because in about 4 hours, after making our way past Nasarawa state, we were already greeted by the amazing landscape of Plateau State. if you have ever traveled this route before, you can bet the landscapes of Plateau are some of the most picturesque you will ever find in Nigeria. SEE AMAZING VIEWS FROM PLATEAU
Moving on, it was nearing noon as we navigated through Jos(capital of Plateau state). This day was on a Friday, so some roads in the city were blocked in preparation for the Friday prayers. This took some minutes of our time but eventually, we were able to exit the city. This is something to keep in mind when traveling this route on a Friday.

Dear Bauchi, we see you! In another two hours, the bus hit brakes and we were ready to be ushered into our hotel. I know by now you are probably already wondering why we aren't headed for Yankari Game Reserve straight, but just keep reading. I'd explain. The trip from Abuja to Bauchi was about 6 hours, could have been faster, except for the road situation in Jos.

So here's the thing about exploring Bauchi. Yankari Game Reserve isn't the only tourist destination in Bauchi state and even so, it is about 3 hours ride from Bauchi town hence, a well planned out trip like the one my friends at Bauchi Friends Tours put together should see you spend a day/night in Bauchi. This is so you can spend time visiting some of the other tourist places as you guys will learn later on in this post, before finally making your way down to Yankari Game Reserve. It is just smarter and cost-effective that way, and in doing so, you have a richer experience exploring Bauchi and not just Yankari Game Reserve.

Gubi Lake:
This is always the number one spot I'd recommend to anyone exploring Bauchi. Either because the scenic water views and hills are just amazing, or it's proximity to Bauchi town, Gubi lake is just really that place you must visit. And as you can imagine, we had an amazing time here.
It was really a great way to officially kick off the explore Bauchi experience. I should mention though, the weather wasn't the most flattering for when we visited, It was an overcast day, which defeated the original purpose of being here, which was to capture and enjoy the views of the sunset. Great time here nonetheless. 
WATCH OUR ADVENTURE FROM GUBI LAKE
The day ended with excitement, returned to the hotel. Had some good dinner and everyone looked forward to the adventures in the coming days.

Sumu Wildlife Park: 
This is particularly one adventure I have been looking forward to because I've never had the chance to come down here in all of my previous visit to Bauchi. Before we continue, some quick facts: Sumu wildlife park was established in 2006 with a land area 82sq/km in Sumu Forest Reserve in Ganjuwa Local Government Area, about 60kms north of Bauchi Town. Its is a splendid homeland for ecotourism. The area was identified as ideal for wildlife herbivorous animals which could not be found anywhere in West Africa. Animals here include Giraffe, Oryx, Blue Wildebeest, Red Hartebeest, Breater Kudu, Giant Eland, Impala, Spring Bok, and Burchell's zebra. The herbivorous wild animals were gotten from different game reserves in Namibia.

While nearing Sumu, we stopped at this small village, Dutsen Boyi where our tour guide had previously told us about some mysterious caves that existed underneath some rocks.
what do you do with such information, if not come down and do some exploring!?
The locals in their warm nature were quick to take us around the rocks, and they shared some interesting tales that sounded something like this "there used to be a witch in the village and to lure it for capture, we kept food and wine at a particular corner of the rock. While the witch comes to eat the food and drink the wine, we capture it and tie it the rock but after some time, the witch magically appears back in the village, living amongst us, after consuming all the food and wine. hhmmm! By now, we had had enough tales and Sumu Wildlife Park was calling. WATCH MORE FROM THE MYSTERIOUS ROCK

Hopped on that safari truck and into the wild we went. As expected of a Safari, it was a very bumpy ride, easiest and most common animals we spotted were the giraffes and zebras. Also spotted were Impalas and blue wildebeest. The safari trip tour guide pointed us to where they'd normally drop off food for the animals to eat, every day. I think that would be an amazing photo to capture so that, I'd definitely plan for, on my next trip here. One situation though, our truck developed a fault that we had to trek back to the camp. It wasn't entirely a bad thing though, because it afforded us the chance to sight more animals.
SEE THE GIRAFFES AND ZEBRAS FROM SUMU WILDLIFE PARK
Back at the camp, Sumu Wildlife Park also has a museum where you can learn about some artifacts, and history as it relates to the Park.

Gidan Madakin Monument:
Built in 1860 by Zaria's celebrated master builder, Muhammed Durugu, a local genius popularly referred to as 'Babban Gwani'. Durugu was famous for designing the palaces of the emirs of Northern Nigeria and was said to have been killed by the Emir of Zazzau after he built his palace for fear that he might build a better one elsewhere.
These are the kind of stories you'd read here, so I definitely recommend for any Nigerian history lover. I'd say visiting here right after the actions at Sumu Wildlife Park was a perfect blend of an adventure cocktail. drink to that!

Sir Abubakar Tafawa Balewa Tomb:
A grand edifice that contains the remains of Sir Abubakar Tafawa Balewa, the first Prime Minister of Nigeria. This tomb was built as a monument to the man who was popularly referred to as the Golden Voice of Africa. Again for history lovers, this is another great place to visit.
There is also a library that furnishes tourists with biography and all information that's been ever recorded of the Nigerian First Prime Minister.
Visiting here right after the Gidan Madakin Monument was a back-to-back hit of history lessons. Well thought out, Bauchi Friends Tours.
…And this was where basically the activities ended for the day, as we hit the road to be on our way to Yankari Game Reserve. Arrival at Yankari's first gate was about 6 PM, and then it took about another 45minutes ride to arrive at the main premises of the reserve.
Did you now Bauchi is the Pearl of Tourism in Nigeria?
Good Morning, Yankari Game Reserve:
The beautiful morning sunrise, with the early morning birds chirping, Yankari Game Reserve as always was a beautiful sight to behold. I got out pretty early for my morning run. The well-laid streets that lie between big beautiful trees really make running a wonderful thing here.
SEE THE LOVELY MORNING VIEWS FROM YANKARI GAME RESERVE
I hope you like to see some baboons because you immediately start to see them in their hundreds.
Warthogs too, but not just as many as the baboons. by the way, we call the baboons' Yankari Area Boys here, and you can already imagine how troublesome they can be. Pro Tip: Always remember to lock your car doors, room doors, windows, and don't just casually hold food walking around, they are watching your every move, trust me. every single move, waiting for you to slip.
While at Yankari, we stayed at one of the corporate villas which is actually the nicest and most priced lodge to stay at, except for the villa that is reserved for top government officials.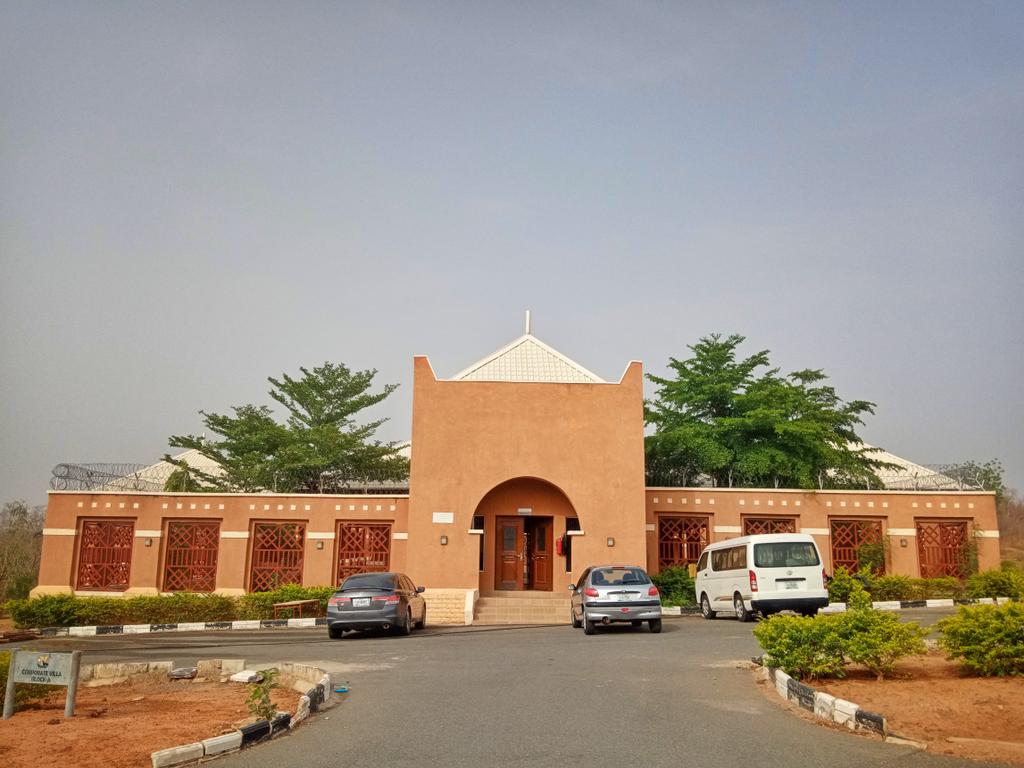 The corporate villa has a huge and well-furnished sitting room, as well as rooms for each guest, an indoor swimming pool and a courtyard.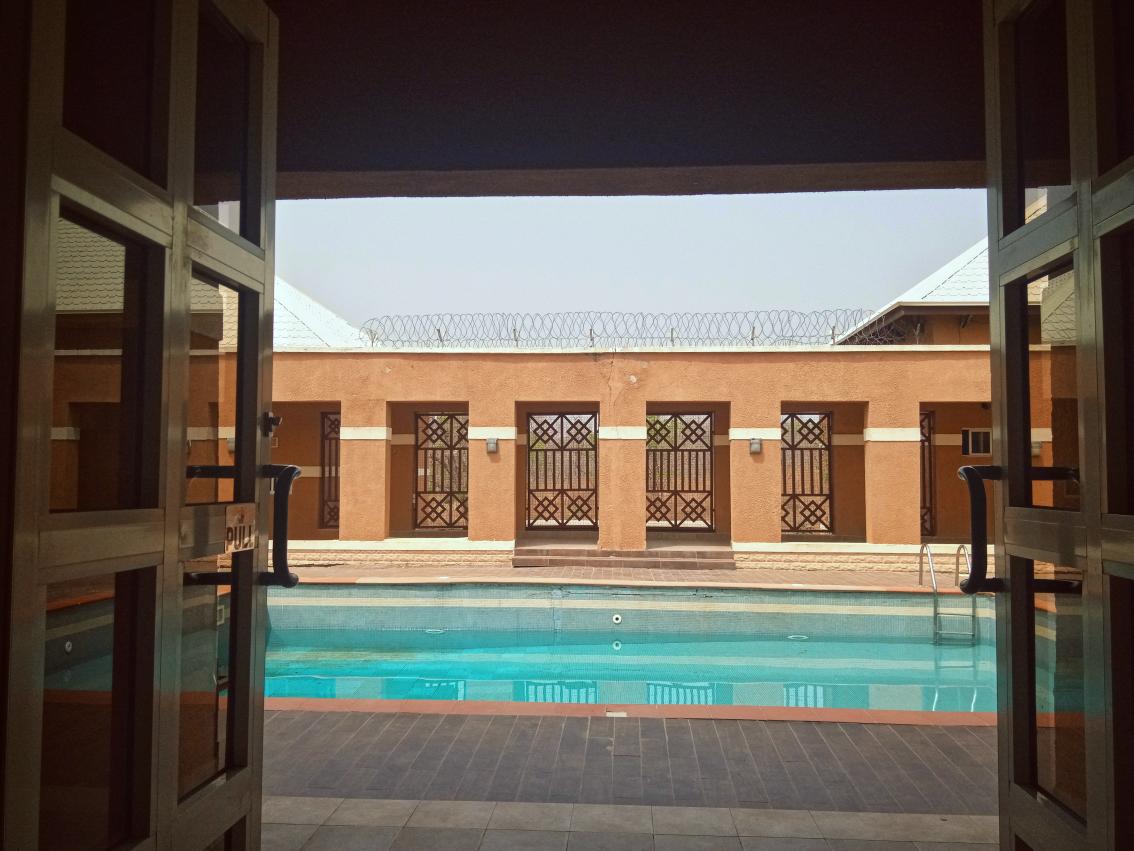 Basically, everything makes sense here for a tour group, but if this goes way beyond budget, there are equally other nice options for lodging.
I should also mention that internet reception is quite poor in Yankari, you only have EDGE to work with and the best of all network to have here is Airtel, followed by MTN and then GLO. This, you should keep in mind before visiting.

Wikki Warm Spring:
Crisp clear blue water, enveloped by tall colorful trees, right in the middle of a forest. That is Wikki Warm Spring! With an unchanging temperature of 31.1 degrees all year round, this is one of nature's goodness and no doubt, my favorite place to relax at Yankari Game Reserve. I came straight down here after my run, even when the rest of the guys were probably still sleeping.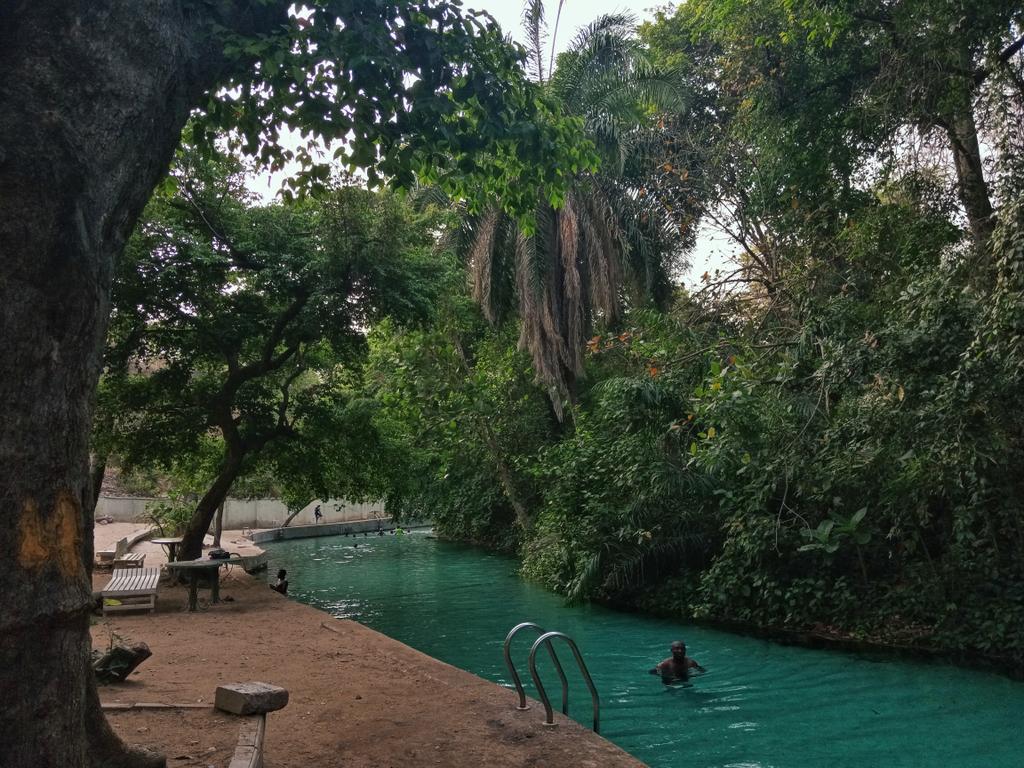 For me, I just couldn't wait to experience that goodness that is Wikki Warm Spring.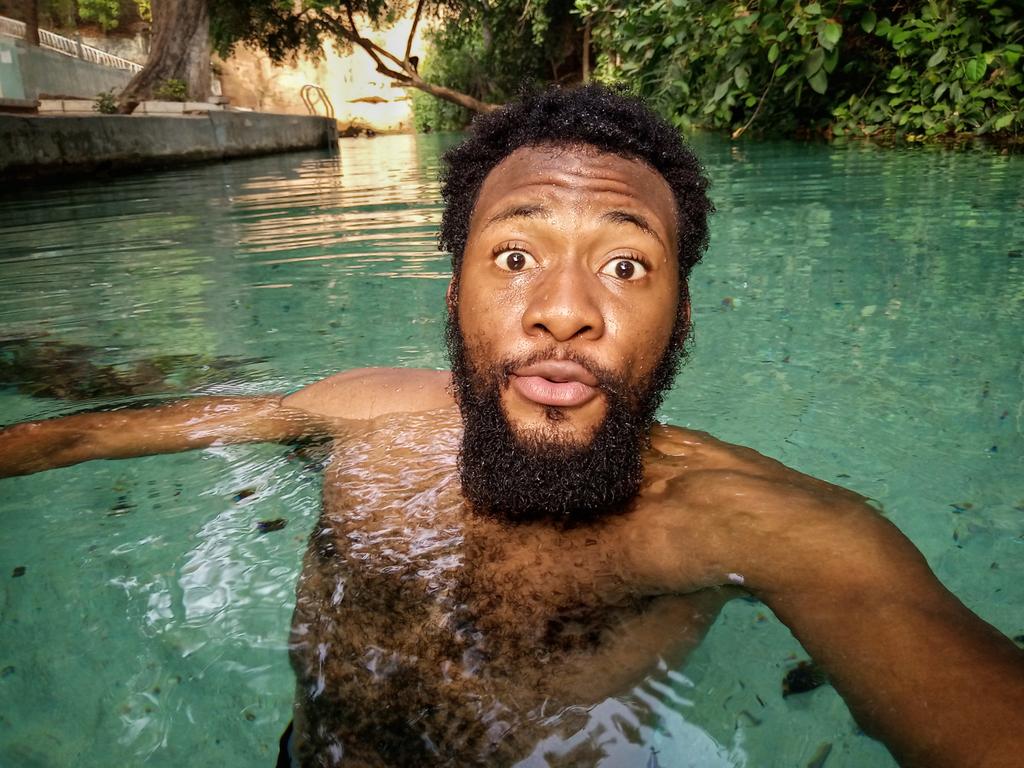 I'd let this VIDEO do rest of the talking.

Safari Trip at Yankari Game Reserve:
Before we hopped on that truck for the Safari trip, we went on a tour of the Yankari Museum and this is highly recommended because the museum is where you learn, everything that there is to Yankari, from the Fauna to Flora and everything in between.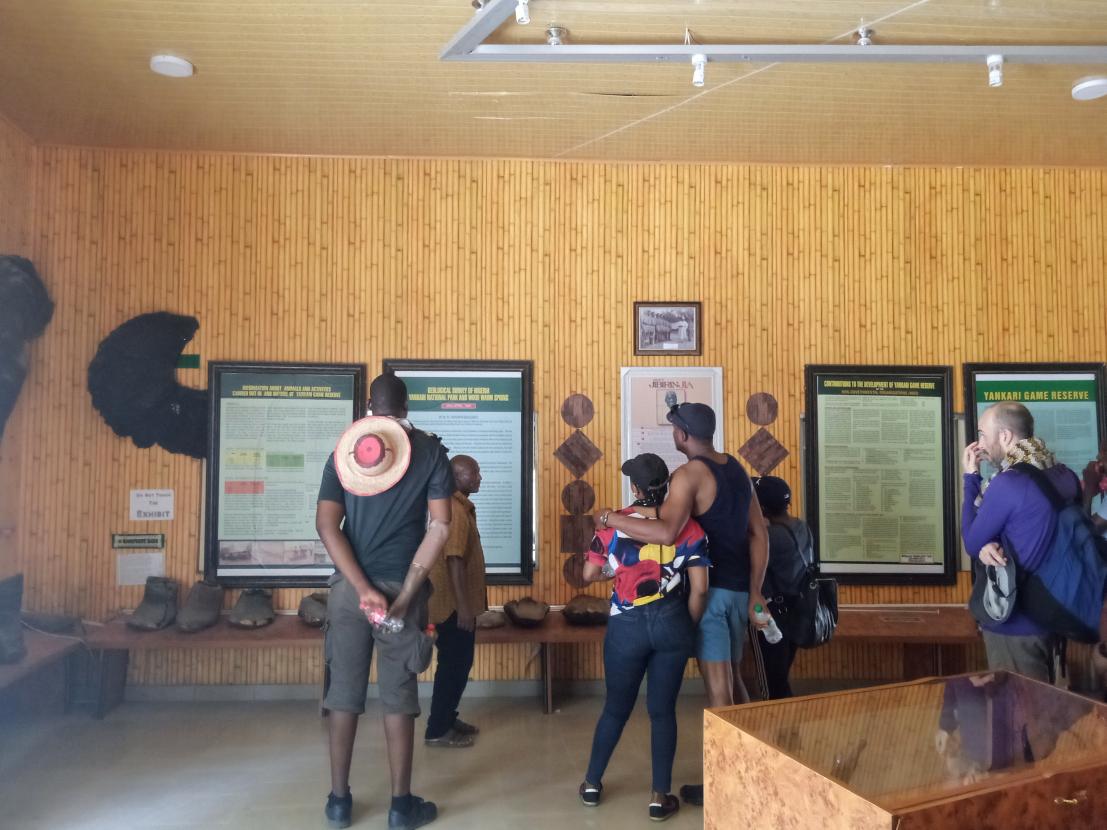 The main difference between the Safari Trip at Yankari Game Reserve and that of Sumu Wildlife Park is that, Yankari is a Reserve, hence, the animals are not guarded, they roam freely ln their natural habitat, and can migrate, according to season.
Sighting animals here on a safari trip is actually a game of luck, but the easiest to spot are the Waterbuck which is actually Yankari's signature animal.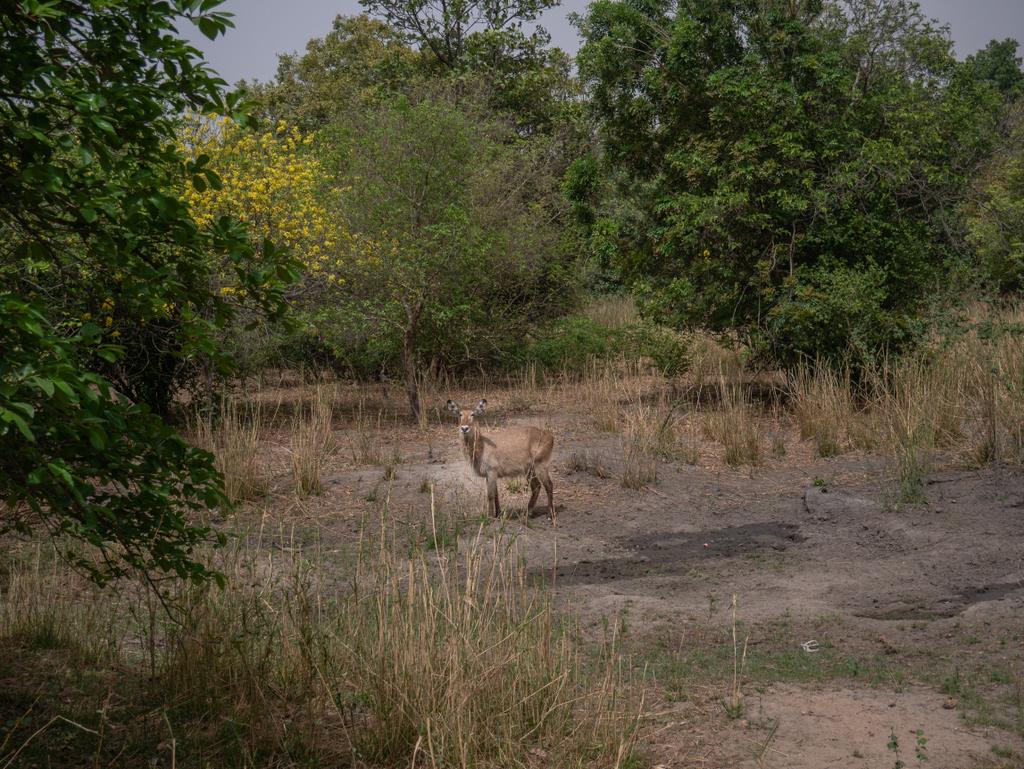 Over the years, there's been a decline in the number of animals here and one of the major causes of that is Poaching. The Yankari management and Bauchi State government have been working to ensure the area is free of poachers. WATCH VIDEO FROM THE SAFARI TRIP
Recent Records of camera traps have, however, signified the presence of some nocturnal animals in Yankari but these are animals that spend most of their day in hiding and only come out at night.
PS: Our safari truck didn't run into any fault here. It would have been scary if it did. Its a reserve, you don't know what might be lurking around.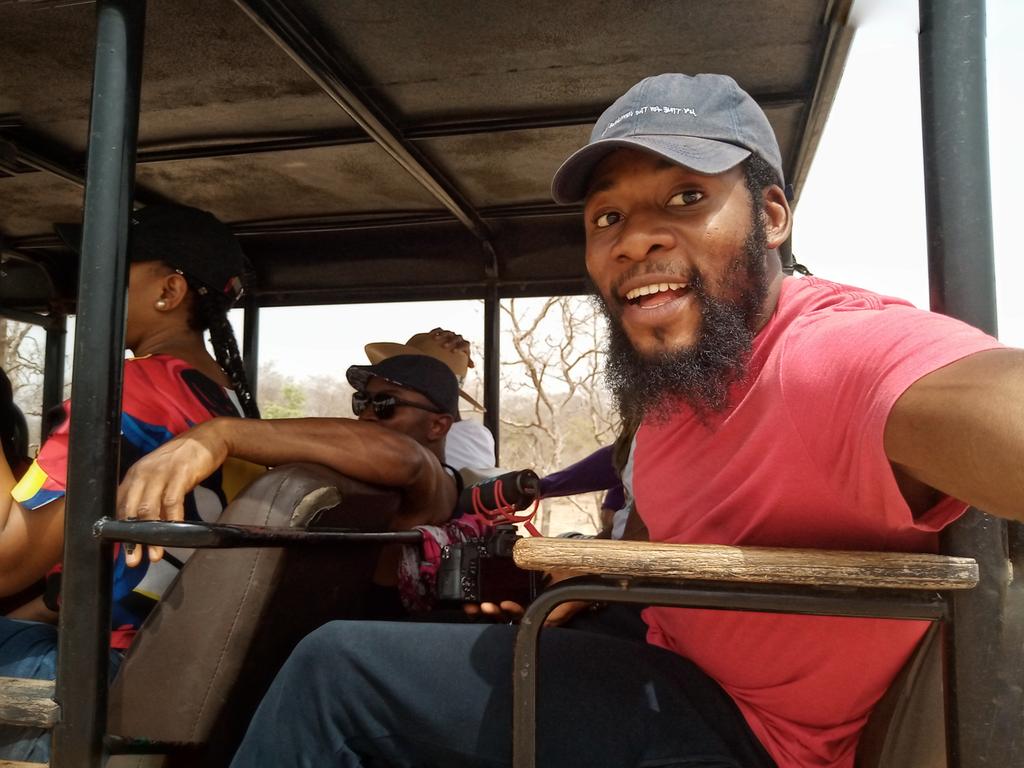 Marshall Caves:
A safari trip here at Yankari also takes you on a tour of the Marshall caves. These caves were discovered in the early part of the 20th century. They are fifty-nine dwellings dug into sandstone escarpments. No one knows exactly who used the caves, though it is obvious they were once inhabited by humans. The stories are that local indigenous people used the caves to hide from slave raiders associated with the Emir of Bauchi and/or Arabic slave raiders coming down from the Sahara region. The caves feature rock paintings and engravings in various lines, presumably created by their initial inhabitants.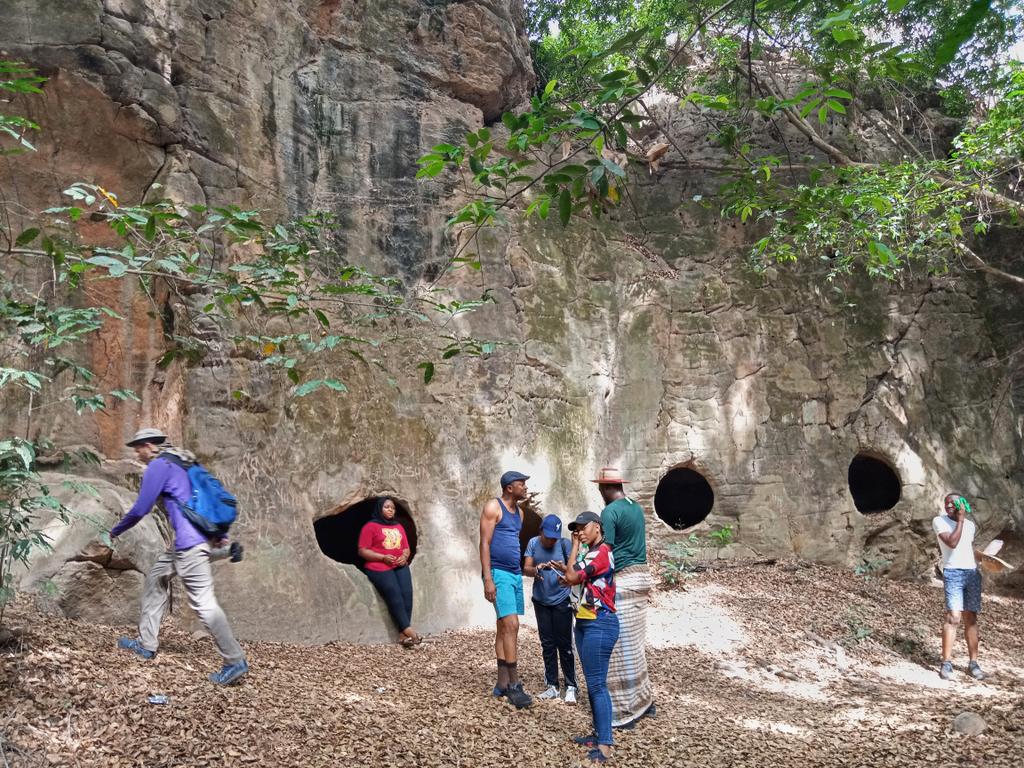 By this time, the activities for the day were pretty much done, some of us retired back to the villa while others went for some good time at Wikki Warm Spring. I should mention though, that Yankari had so many visitors at this time, given that it was during the Easter holiday.
One terrible experience I should also mention was the lack of constant power supply. The generator only comes on in the evening into the early hours of the morning, and then the weather was terribly hot. Imagine having to deal with all of the heat, and there was nowhere to get cold water. Despite the electricity not being 24/7, you'd expect that the restaurant and the bar, at least should have an alternative to providing cold water for guests, but they didn't have that, and that made the experience a tad bit unbearable.
Later on in the evening back at the Villa, Bauchi Friends held us down to a nice barbecue dinner and music, and there was none other way I would rather spend my last night in Yankari.
Leaving Yankari; A Visit to Emir of Bauchi's Palace:
Next morning, hard to say goodbye but we had to pack and be on our way out of Yankari.
Watch what the Yankari Baboons did to us before we left
It was going to another long ride back to Abuja but before then we stopped at the Emir of Bauchi's Palace. You know you can't explore a place without connecting with the culture. Here, we spent some time soaking up all the cultural elements — the colors, the patterns, the paintings. However short the time we spent here, it was worth it that we stopped by.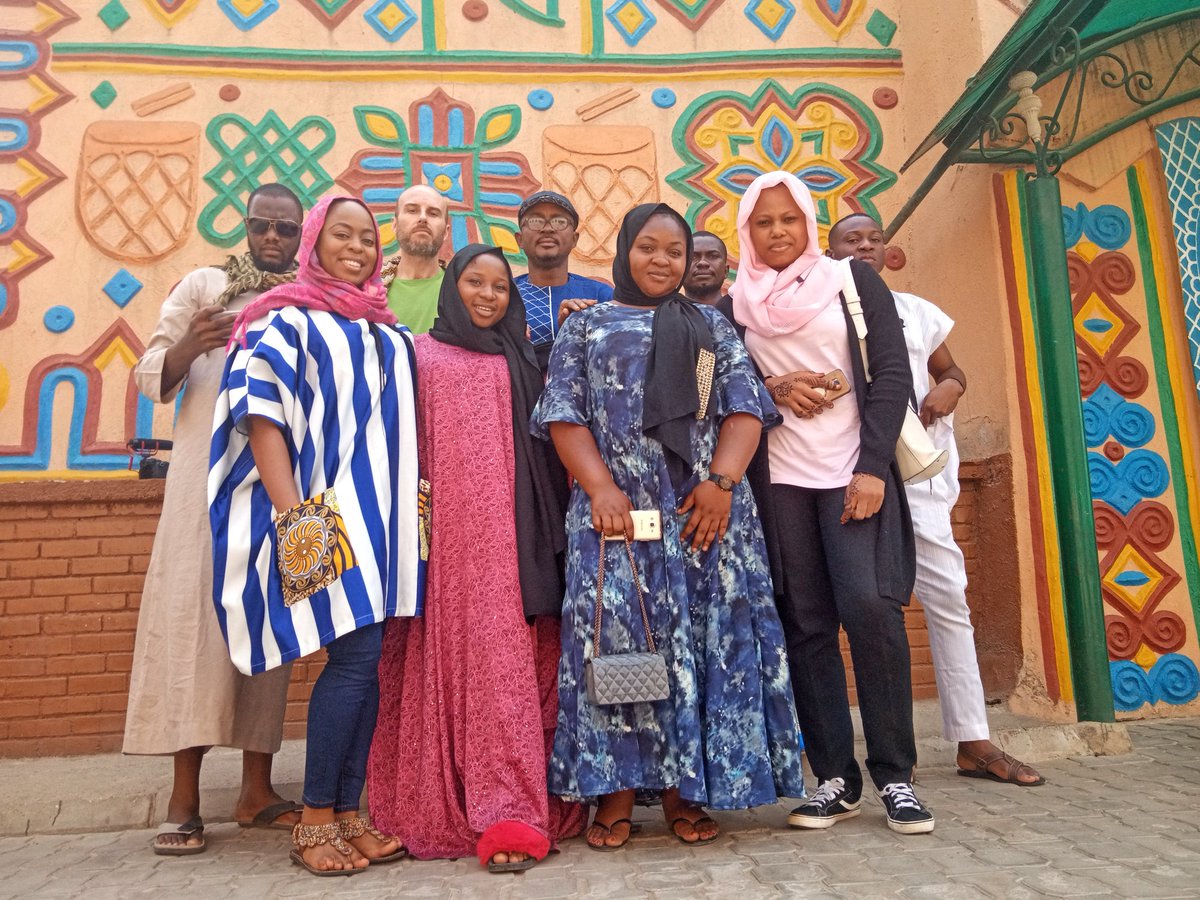 Masan' Bauchi:
There is nothing more synonymous to Bauchi than masa. Bauchi state has the best masa in Nigeria, if not in Africa, quote me anywhere!! Your trip down here isn't complete without having some masa. never forget!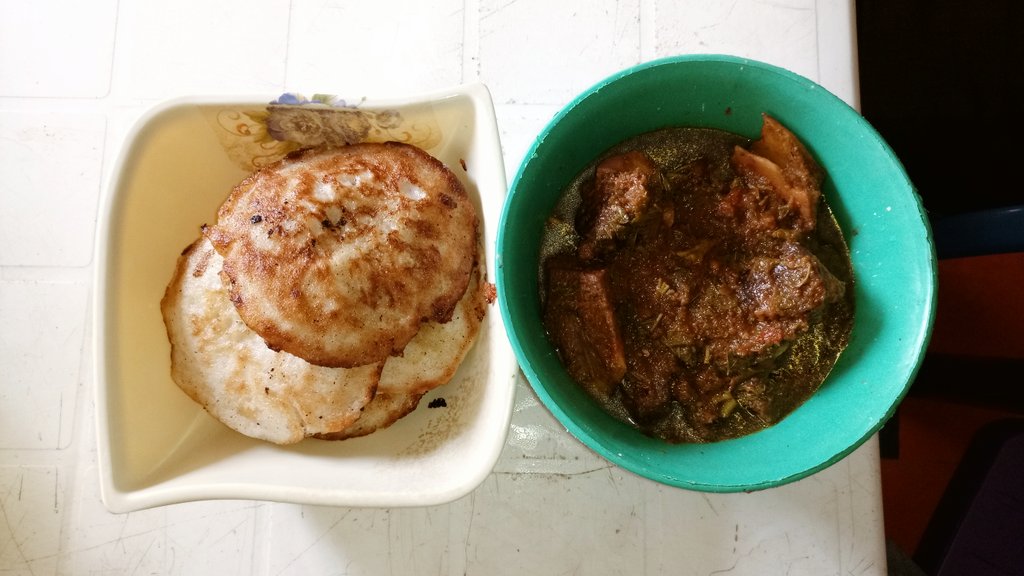 We stopped for our final supply and soon enough, we were on our way out of Bauchi.
We arrived back in Abuja at a good time for others who were going to Lagos to catch their flights.
Rounding up, It was a great experience, a good way to get out and enjoy the holiday, new friendships were made, some of the guys have never been to any part of Northen Nigeria, let alone Bauchi, but this trip was an eye opener that despite all the panic that comes with traveling and exploring Nigeria, especially Northen Nigeria, you can totally come here and have nice time without any fear or worry, and the potentials here for Tourism is still largely untapped.
I hope this post inspires you to go out and explore Nigeria!
If you'd like to WATCH all our adventures from Bauchi, I made a two-part series video you can watch here: PART 1 and PART 2
Finally, what are your thoughts about Bauchi? what are your thoughts about exploring Nigeria? Talk to me in the comment section. I'd love to hear from you. 
All photos and write-ups on this post are copyrighted Abdulsalam Khalid Hamza